As an example of the level that political discourse has sunk to in the United States (in which it is no longer necessary for those aspiring to the presidency to bother to check their sources), Herman Cain has told audiences (more than once apparently):
"A poet once said, 'life can be a challenge, life can seem impossible, but it's never easy when there's so much on the line.'"
It would be nice if it was "a poet" that actually said that (although from a poetic standpoint, such a poem would be on par with Joyce Kilmer's "Trees"), but Herman Cain is actually quoting the theme song from Pokemon: The Movie 2000.
Because I believe in checking my sources, I used the google and found several sources, including this one:
Here's the thing, though: that article is from October 11, roughly a month ago. But this was noticed two months prior to this. Here's an article from just after that debate: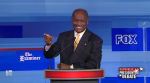 Herman Cain Pokemon | Power of One Donna Summer | Life Can Be a Challenge | Mediaite
http://www.mediaite.com/online/did-herman-cain-end-the-debate-with-an-inspirational-quote-from-a-pokemon-movie/
Last night, while giving his final comments in the GOP debate, Herman Cain told the crowd, "A poet once said, "˜life can be a challenge, life can seem impossible, but it's never easy when there's so much on the line.'" It's a nice quote, right? Well, a…
Herman Cain isn't actually quoting Pokemon, he's actually quoting Donna Summer, who sang the song. Well, to be more accurate, he's not quoting Donna Summer; he's quoting whoever it was who wrote the lyrics to the song. It really doesn't matter. It's just proof that the man doesn't know what he's talking about, which is perfectly clear to anyone who has ever read his "9-9-9" proposal.
By the way, 999 is the number the United Kingdom uses for its emergency telephone number. It's the UK equivalent of 911 in the United States and Canada. Enough said.
Anyway, I think the real reason the Cain is quoting Pokemon is simple: now he can say that Team Rocket are really the ones behind all those allegations of sexual harassment.
For what it's worth, you can see the "poem" that Cain is so fond of quoting here:
This work is licensed under a Creative Commons Attribution-NonCommercial-ShareAlike 4.0 International License.
Permalink for this article:


https://iswpw.net/2011/11/13/introducing-vice-president-pikachu/