Posts tagged with:
welcome to my geekdom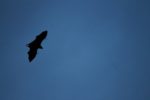 The server migration is complete…almost. Last night, I transferred CNAME records from my old host to my new host, WebFaction. While I was on my WebFaction control panel, I also recreated the email addresses that I would need. (There were some I had created that I never used, so I was able to pare the …read more…
So I took the Which Star Trek Character Are You? quiz that Jeff Baker offers on his web site. Guess what? I'm a red shirt! And proud of it! (I think.) Your results: You are An Expendable Character (Redshirt) An Expendable Character (Redshirt) 90% Spock 84% Geordi LaForge 75% Jean-Luc Picard 65% Data 64% James …read more…
For the past ten years or so, I've always used my own index.htm file as the homepage for all my browsers, adding to it the links I visit the most. Over the years I added and deleted links, and occasionally tweaked the css, but for the past few years, it's been pretty static. I recently …read more…
Darth, you just destroyed the Rebel Alliance. Where are you going next? Disneyland!
It just will never get cooler than this. I wish I could remember where I found this image. Bonus: two of these people are Canucks. Can you guess which ones?
For some reason, I needed to hear Devo's "Whip It", so I headed over to YouTube and found this:
I was just a kid when that song came out, but I still love it. The video is a little questionable, though—slightly racist, slightly misogynistic. Still, gotta love that song.
I had to make that a link, because embedding of that video has been disabled at the request of Devo, which is a bit of a pisser, because it's not taking anything away from them for people to watch a video hosted on their YouTube channel which is displayed here. Hosers.
This post is a parody of my "How to Get Help from a Help Forum" post. Since some people find themselves offended by it, I thought I would create a special set of rules and guidelines just for them. If you don't understand what parody is, please don't read this post. You'll just get your …read more…
So I took this quiz thing on the internet (which means it is completely legitimate and totally accurate, right?) Your results: You are Green Lantern Green Lantern 75% Superman 65% The Flash 65% Spider-Man 60% Batman 60% Supergirl 60% Robin 50% Hulk 50% Iron Man 50% Wonder Woman 30% Catwoman 25% Hot-headed. You have strong …read more…