Posts contained in the "
Art

" category:

I am not a professional artist, but I have always been a creative person. This category includes all my posts about art, artists, art exhibits, and the creative process.
The first relaxing weekend in the new apartment…time for a long relaxing walk and time to think.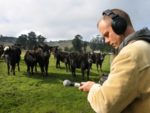 A couple of years ago, I bought a Tascam DR-05 recorder. It's nothing fancy, really—just a handheld recorder that records in stereo. I immediately became intensely interested in recording everything around me. I also learned about "touch noise" which is noise that you get from touching the recorder. Tripods and booms get you around that. …read more…
For some reason, whenever I'm at the grocery store, I can't help but take pictures. A photo posted by @notcuriousanymore on Jun 19, 2015 at 4:57pm PDT A photo posted by @notcuriousanymore on Jun 12, 2015 at 12:02pm PDT A photo posted by @notcuriousanymore on Jun 6, 2015 at 12:57pm PDT A …read more…
For some time now, my gallery has been offline. Due to personal reasons, I just didn't have the time or energy to devote to my photography. But I've come to the conclusion recently that being in a creative rut is no excuse for not being creative—that's the only way you'll ever get out of it. …read more…
A long time ago, I became very interested in photography. But I didn't really get involved with it very much until college. Boring and irrelevant backstory: During my senior year in high school, I had so many credits toward graduation that I only needed to take two or three classes. I asked my guidance counselor …read more…
For the month, we are very fortunate to have a beautiful conjunction between Venus and Jupiter. I managed to snap this shot on Friday night: Venus is at the top, and Jupiter is at the bottom. Just tonight, I noticed that the moon was beautifully aligned with these two planets. Here is the first image …read more…
I awoke one morning last December to a magical scene: the entire world covered in hoarfrost. I got out and got as many pictures as possible, but hoarfrost is a very temporary entity at best, and difficult to photograph on a sunny day. These are the best of perhaps twenty photographs I took that morning …read more…
I found this spiderweb in the grass outside my apartment one morning at the end of last month. If you look at it up close, it's such a delicate, intricate little construction. It obviously reflects a great deal of work and skill in its construction. Coated with dew, it looks like a snug, almost magical …read more…
I took these pictures last March (in 2010) and played around with them a bit in Photoshop. You can comment here or in the gallery to let me know what you think.