Update Information:
I have updated this recipe to include the nutmeg and peppercorns that I originally left out. Also, pictures! Really awful pictures, but you get the idea.
With just a few simple ingredients, this is a filling, hearty side dish perfect for a holiday meal (it does take some time). Adding leftover ham or corned beef can turn this into a satisfying main dish. The real secret to this dish is taking your time with the béchamel sauce, so that the bay leaves and onions have time to impart a delicate flavor to the milk.
3 1/2 pounds russet potatoes
4 cups milk
5-6 bay leaves
1 small onion, peeled and sliced
5-6 whole peppercorns
freshly grated nutmeg
1/2 cup butter (1 stick)
1/2 cup flour
1 teaspoon salt
1 teaspoon freshly ground black pepper
1 tablespoon butter
Using the 1 tablespoon butter, generously grease the bottom and sides of 9×13 baking dish.
Pour the milk into a 2- or 3-quart saucepan. Add the onion, bay leaves, nutmeg, and peppercorns and heat over medium heat. (You do not want to scald the milk—you want to heat it up enough to encourage everything to flavor the milk. If you are using a thermometer, you want it around 180ËšF/80°C. The longer this takes, the better.)
While the milk is warming, peel the potatoes. Rinse them and set them aside in a bowl of water to keep them from browning.
In another 2- or 3-quart saucepan, melt the 1/2 cup of butter over medium heat. Add the flour and cook, stirring constantly with a whisk, for two or three minutes or until the flour is cooked, to form a blond roux. Do not allow this to brown.
Pour the warmed milk through a sieve into the roux. Discard the onion, bay leaves, and peppercorns. Heat gently, stirring constantly, until thickened and bubbly. Add the salt and pepper and stir. Remove the béchamel sauce from the heat.
Pour a small amount of the béchamel sauce into the baking dish and spread it around to cover the bottom.
One at a time, remove the potatoes from the water, dry with a towel, and slice them approximately 1/4-inch thick, adding them to the baking pan as you go.
When half the potatoes are in the baking pan, pour half the béchamel sauce over them, spreading it evenly. Slice the remaining potatoes into the pan, and add the rest of the béchamel sauce, making sure that all the potatoes are covered.

Potatoes coated in bechamel sauce, with chunks of cheddar cheese. (I'm actually making the au gratin variation; see below.)

Sprinkle with additional black pepper and add some more bay leaves.

Ready to go into the oven, with a sprinkling of black pepper and bay leaves.
Cover with foil and bake in a moderate oven (350ËšF for a metal pan, 325ËšF for a glass pan) for one hour. Remove foil and bake an additional ten or fifteen minutes, until potatoes are tender. Allow to stand fifteen minutes before serving.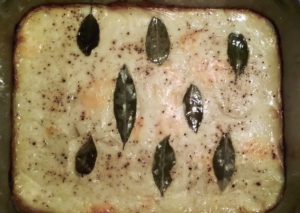 Notice!
This dish actually looks far more appetizing than this, but the lighting on top of my stove is terrible.
Variations:
Au Gratin Potatoes: Stir 1/2 pound of shredded Cheddar, Colby, or Gruyère cheese into the béchamel sauce.
Main Dish Scalloped Potatoes: Add two cups sliced and chopped ham or corned beef to the potato slices.
If you like the top to be browned, place it under the broiler for five to ten minutes after baking.
This work is licensed under a Creative Commons Attribution-NonCommercial-ShareAlike 4.0 International License.
Permalink for this article:


https://iswpw.net/2011/04/09/scalloped-potatoes/