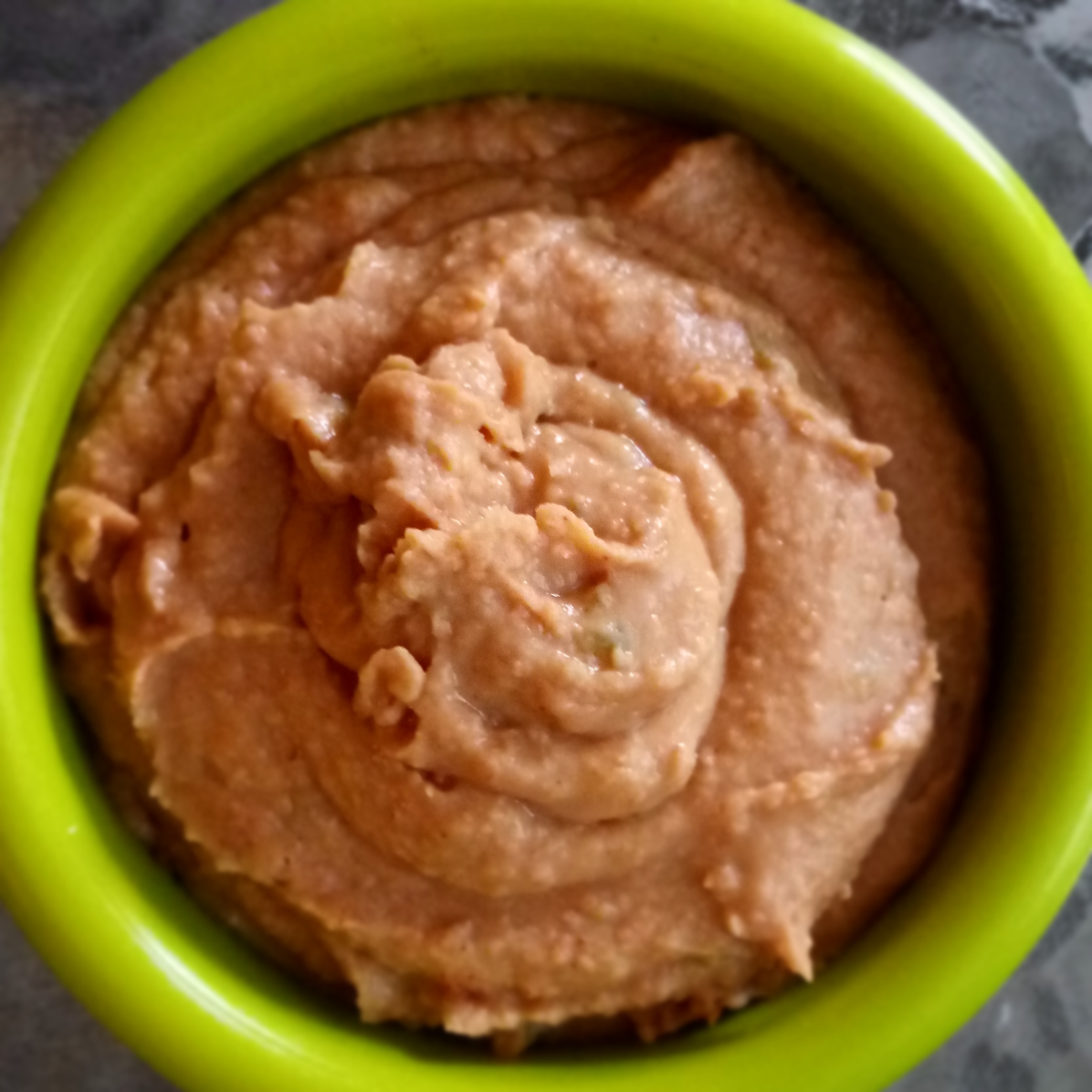 I think anything sounds fancy if you add "á la" to the name. Don't you agree?
Anyway, when I was younger, I could eat good old Frito Lay bean dip by the gallon. It's pricy (around three dollars a can in these parts), and it's high in sodium, so these days it's not something I eat often. But you can make it from scratch, and the result is something that's actually better than the store bought version.
(One of these days I'm going to write a post about doing copycat versions of commercial food products. But until then, the short version boils down to this: What gives a lot of commercial food products their flavor is salt and sugar, and what gives them their texture is stuff you can't get at home—like modified food starch. Our goal shouldn't be to replicate those items exactly, but to come up with something better. This recipe is an example of that.)
Ingredients
1 can (15 oz) pinto beans, drained (reserve the liquid!)
5 slices pickled jalapeño pepper
1 tablespoon brine from pickled jalapeño peppers
1/2 teaspoon onion powder
1/2 teaspoon paprika
1/4 teaspoon garlic powder
1/2 teaspoon salt (optional, to taste)
Procedure
Drain the beans, reserving the bean liquor. Add them to a food processor.
Add the jalapeño pepper, onion powder, paprika, garlic powder, and brine, and process until smooth.
Taste. If the dip is too thick and requires more heat, add a bit of the pepper brine and process. If the dip is too thick and the heat is just right, add a bit of the bean liquor and process.
Taste again and adjust the salt. Depending on the brand of canned beans you use, you make require no additional salt, or more salt up to 1/2 teaspoon.
Notes
A lot of recipes for this dip call for added sugar. I find that sugar blunts your palette and actually makes it difficult for you to taste anything that isn't sweet. You don't need sugar. Don't add sugar.
How much salt you need to add depends on the beans and peppers you use. I've been cutting back on salt lately and I find that my taste buds are adjusting and I'm learning to enjoy how food actually tastes. Add enough salt to make everything else in the dish taste better, not to make the overall dish taste salty.
I find that the Frito Lay version of this dip isn't hot at all. If you have people in your life who are sensitive to the heat from hot peppers, you can use mild canned green chiles. They will add pepper flavor without adding the heat. This changes the nature of the dish, but again, my goal isn't to replicate the original, but to improve on it.
Canned or bottled jalapeño peppers can vary widely in their heat level. I like any brand that is made in Mexico, which are easily available at my local supermarket, although I'm always up for a trip to my local tienda mexicana. Again, if you like heat, but not that much, you might want to start with a single jalapeño pepper slice and work your way up.
This is definitely better the next day. Future variations I'm going to try include:
Using black beans instead of pinto beans (because black beans are marvelous)
Subbing some or all of the paprika with smoked paprika
Using chipotle peppers in place of canned jalapeños
This work is licensed under a Creative Commons Attribution-NonCommercial-ShareAlike 4.0 International License.
Permalink for this article:


https://iswpw.net/2019/03/27/bean-dip-a-la-frito-lay/